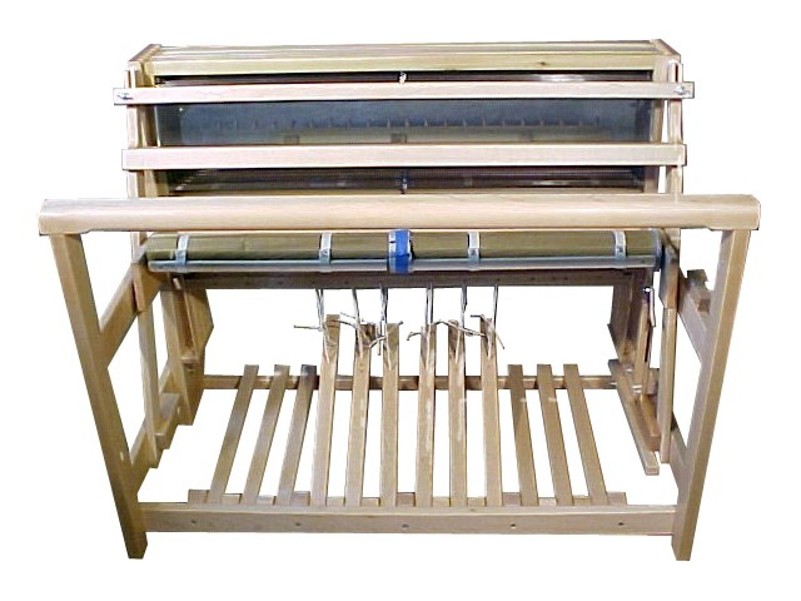 The "Gilmore" Floor Loom
Shown is a "Gilmore" 40 inch, 8 harness floor loom

More details:
The "Gilmore" Loom series are made mostly of hard eastern maple. The cloth beam, warp beam, and the harnesses are of poplar, allowing them to be strong, straight and light. These looms are sturdy, yet compact enough to move from place to place. The warp beam easily comes off its brackets and the brackets swing down. The back top beam folds up so the loom can fit through a standard doorway.
The front bar (breast beam) comes off steel pins so you can get closer to the heddles and the treadles for easier threading and doing tie ups.
The cloth beam and warp beam braking system is a ratchet gear and pawl (dog) type. A new improvement prevents the warp beam from spinning when the tension is released. And the looms are now designed to stop other harnesses from lifting when making a shed under high warp tension conditions.
A specially designed beater bar lock that will not harm the beater legs, and beater cushions are installed as standard equipment.
Either 4 harness (shaft) or 8 harness models are available. These looms come in true weaving widths of 26", 32", 40" and 46".
Included with each loom is a stainless steel reed (specify dent), a sley hook, a Gilmore medium shuttle with bobbin, 2 lease sticks, 50 heddles per harness/shaft, and two dozen Texsolv treadle cord and arrow sets
(Click Here for pricing information)
"Gilmore" floor loom series standard specifications

Model

Harnesses

or Shafts

Width

Treadles

Dimensions

L X W X High

54 x 36 x 38
Gilmore Looms
1032 N. Broadway Ave.
Stockton, CA 95205-3928
Phone: (209) 463-1545

weavinginfo@gilmorelooms.com
The time tested "Compact" series looms have been produced since the 1960's. The "Gilmore" model as taken the "Compact" model to a new level with refinements and modifications to improve the floor loom even further. These looms have the strength and weight to easily do rugs and blankets as well as any fine weavings. The handcrafted parts are of the finest woods and are all still milled from quality lumber at our Stockton shop. Mr. Gilmore designed the Compact model so it would be versatile and yet not take up a lot of room, so the new "Gilmore" model proudly carries his name . By swinging from the bottom, the beater tightly packs the weft threads with little effort. In addition the beater has a built in "shuttle race" that allows the shuttle to ride, not only on the lower shed threads, but also on a wide supported guide. Treadles are well spaced and easy to work. Texsolv treadle tie-ups are simple and easily to do, and in the jack loom tradition produce an excellent rising shed. Frames, or shafts, are built light and strong to hold flat steel or inserted eye heddles that smoothly guide, not wear, all varieties of warp fibers. Built for professionals or novice weavers these looms continue the Gilmore jack loom tradition as the best quality looms made.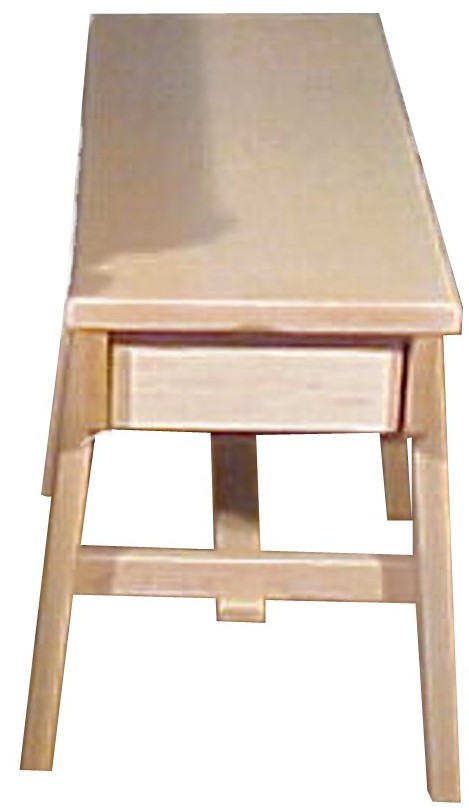 Gilmore Bench
The Gilmore Bench is made of solid hardwood maple. The top is 13 1/2 in. x 30 in.. The bench is tilted to the front making it easier on your back and to allow more comfortable treadle contact. Bench height is 22 1/2" in the front and 23" in the back. The drawer has maple ends and poplar sides and It slides through both ends for easier access.
(Click Here for pricing information)
Open Raddle
Closed Raddle
Front/Back Raddle
The Front/Back Raddle is a raddle that can be mounted on either the front (breast) beam or the back top beam. It will fit all "Gilmore" or Compact series looms. When mounted on the beams it can be set to be an open raddle or a closed raddle. It comes with a set of special clamps that will not hurt the beams. It can also take the place of the reed in the shuttle race reed slot.
(Click Here for pricing information)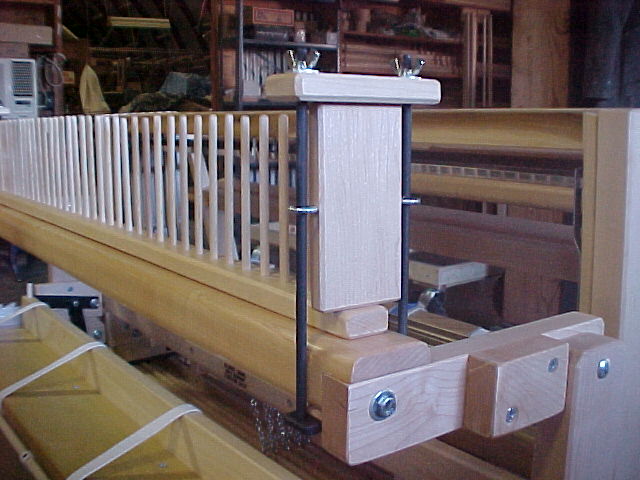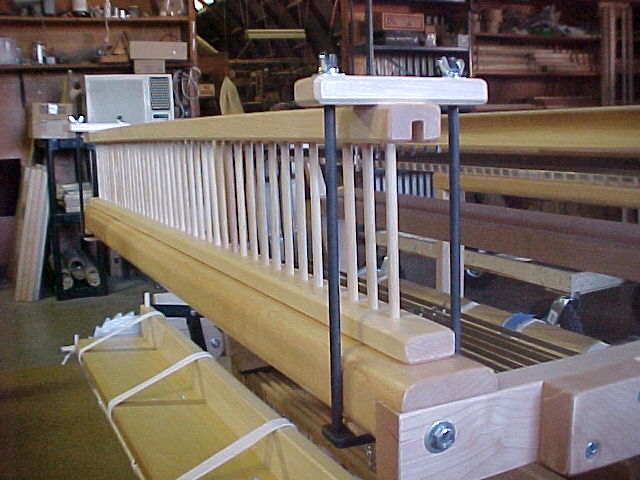 Sectional Beam Bars

Sectional beam bars can either be installed with a new ordered loom, or can be ordered as a kit to be installed on any "Gilmore" or Compact series Loom's warping beam that is the "closed" or solid type as shown at the left. They are made of poplar and have 3/8" maple dowels spaced on 2" centers. Included are a full set of sectional cord ties and the mounting hardware.
(Click Here for pricing information)
(Special note: Some older Compact looms have shorter Warp Beam Brackets that do not hold the Warp Beam out far enough to add the extra 3 1/4" height of the Sectional Beam Bars kit. You can check an older loom by measuring the length of the arms that hold the Warp Beam. They should be about 9 1/4 inches long overall. If they are the shorter arms you will need to also purchase a set of new arms before adding a sectional beam kit. )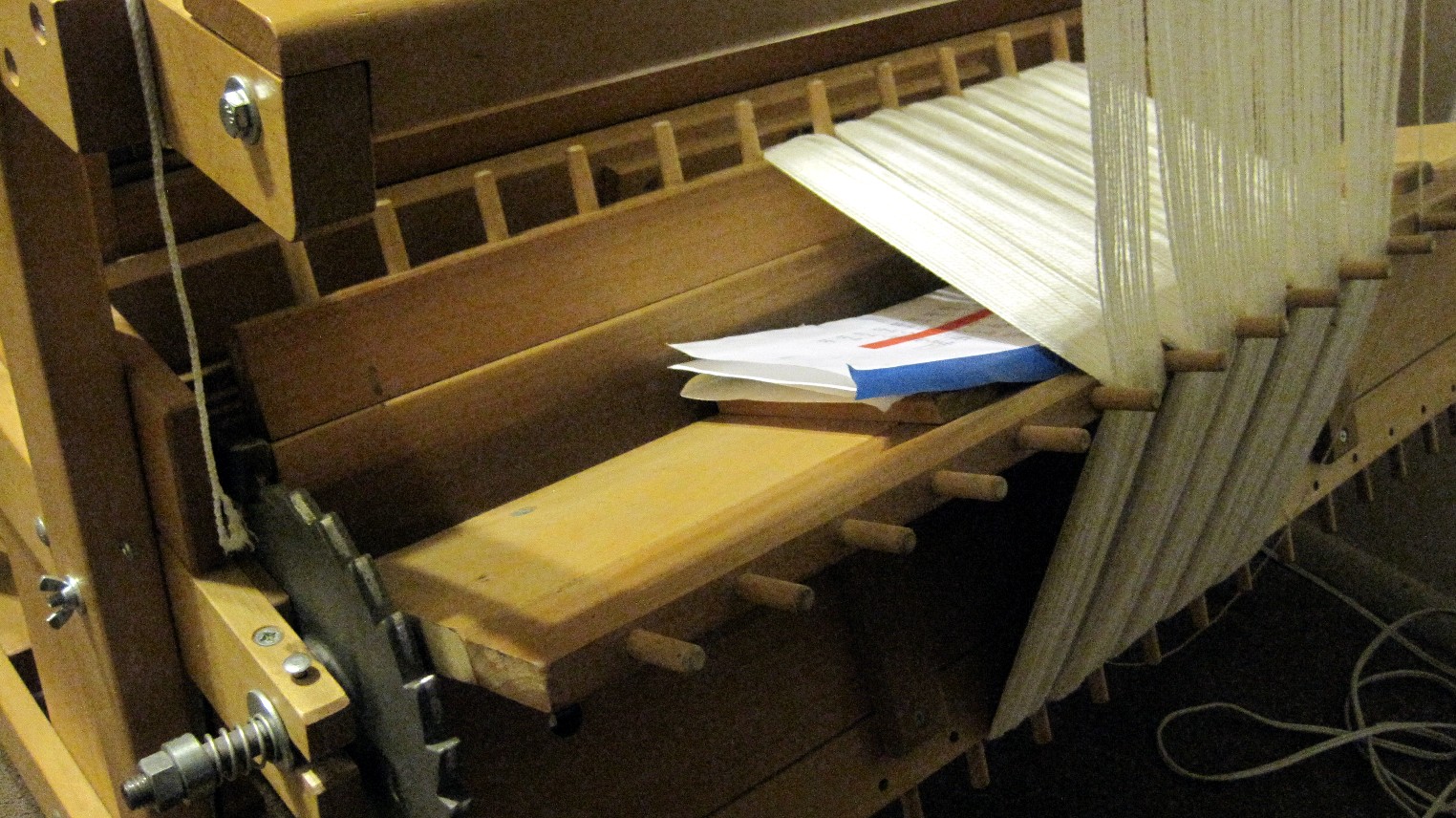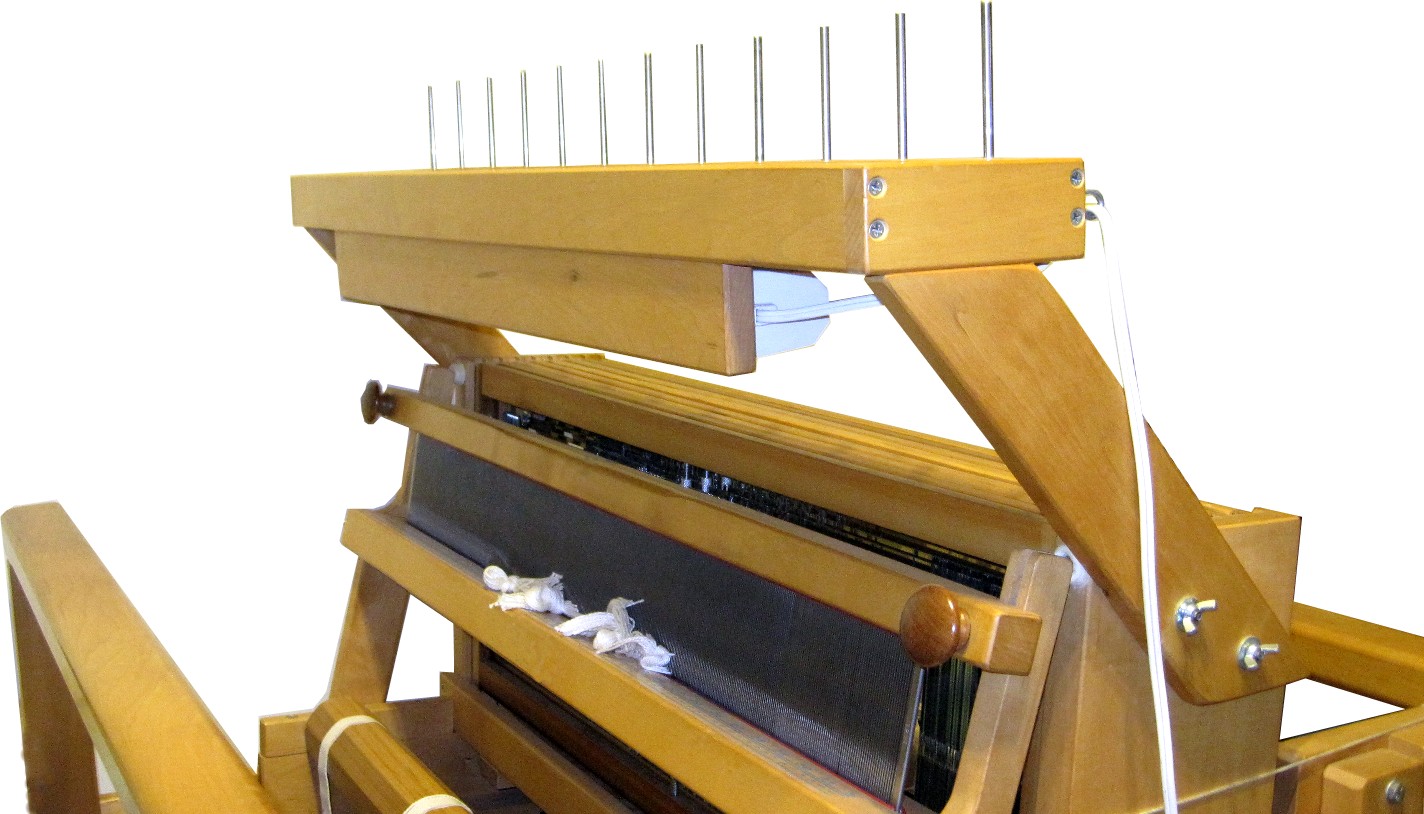 Removable Top Tray
The top tray is slanted forward so it does not get in the way of the lifting harnesses. The tray sits on pins and is easily lifted off. The upright brackets are easily removed from the castle for transportation. The Top Tray is made of hardwood maple, with a solid poplar bottom. An optional fluorescent light and stainless steel bobbin pins can be added to the tray (as shown at right).
Note: This tray is NOT a product available in kit form. It can only be built and installed on a loom brought to our factory.
(Click Here for pricing information)
A
B
Front Beam Cloth Pocket
This pocket is made to fit a "Gilmore" or Compact series loom. A sturdy cloth is supported by steel bars and hardwood maple ends. This allows you to have all your shuttles and accessories within easy reach. It is easily removed as needed. The mounting brackets for the 40" and 46" looms are a wood clamping system shown in photo A. The mounting brackets for the 26" and 32" looms are a cushioned metal and Velcro system shown in photo B.

(Click Here for pricing information)
Warp Tensioner

The Warp Tensioner attaches to the back top beam of a "Gilmore" or Compact series loom. It comes with two cards that are used for different sized threads. By varying the way you wrap the threads around the guide dowels you can vary the tension of the treads for sectional warping.
(Click Here for pricing information)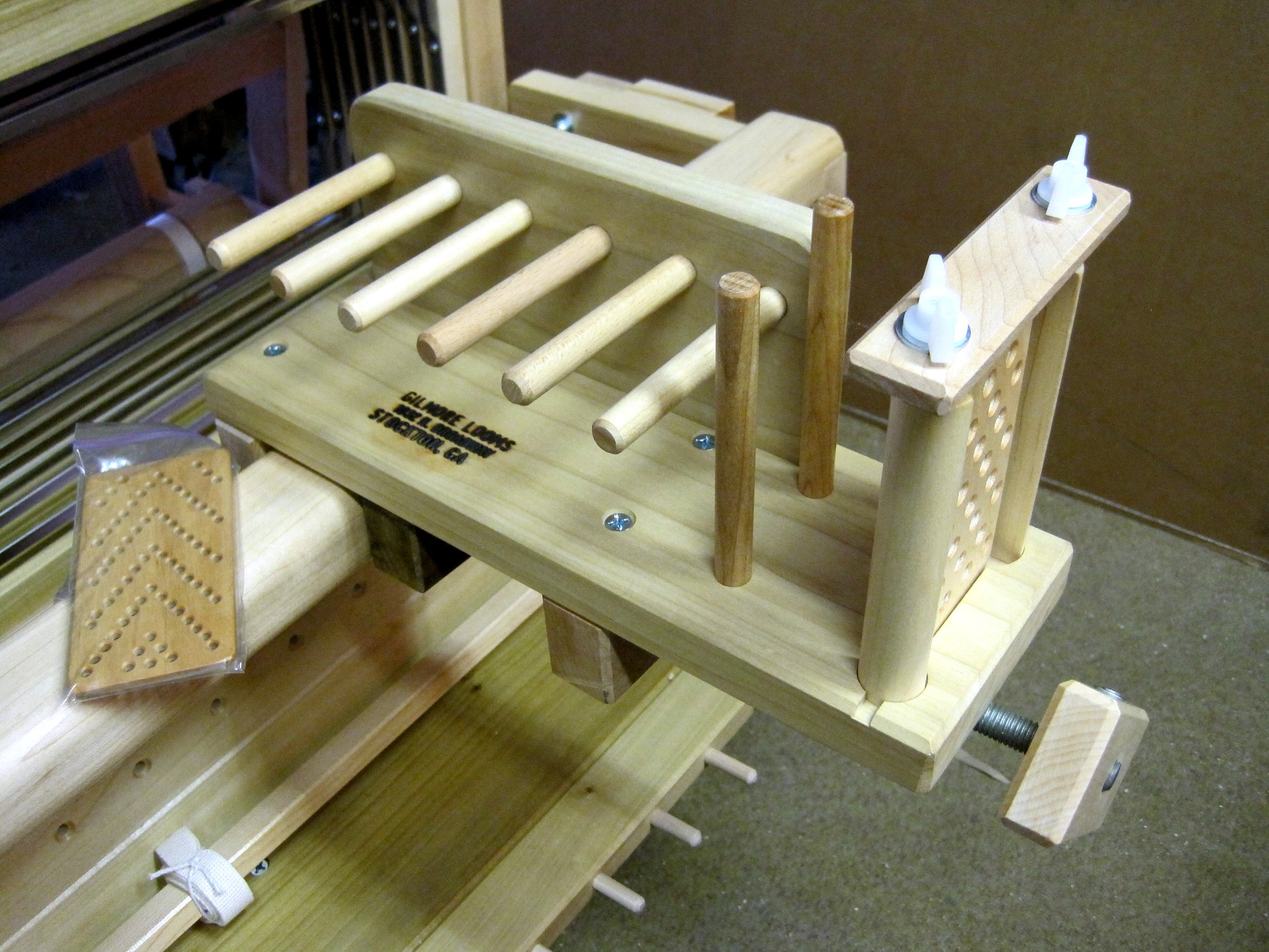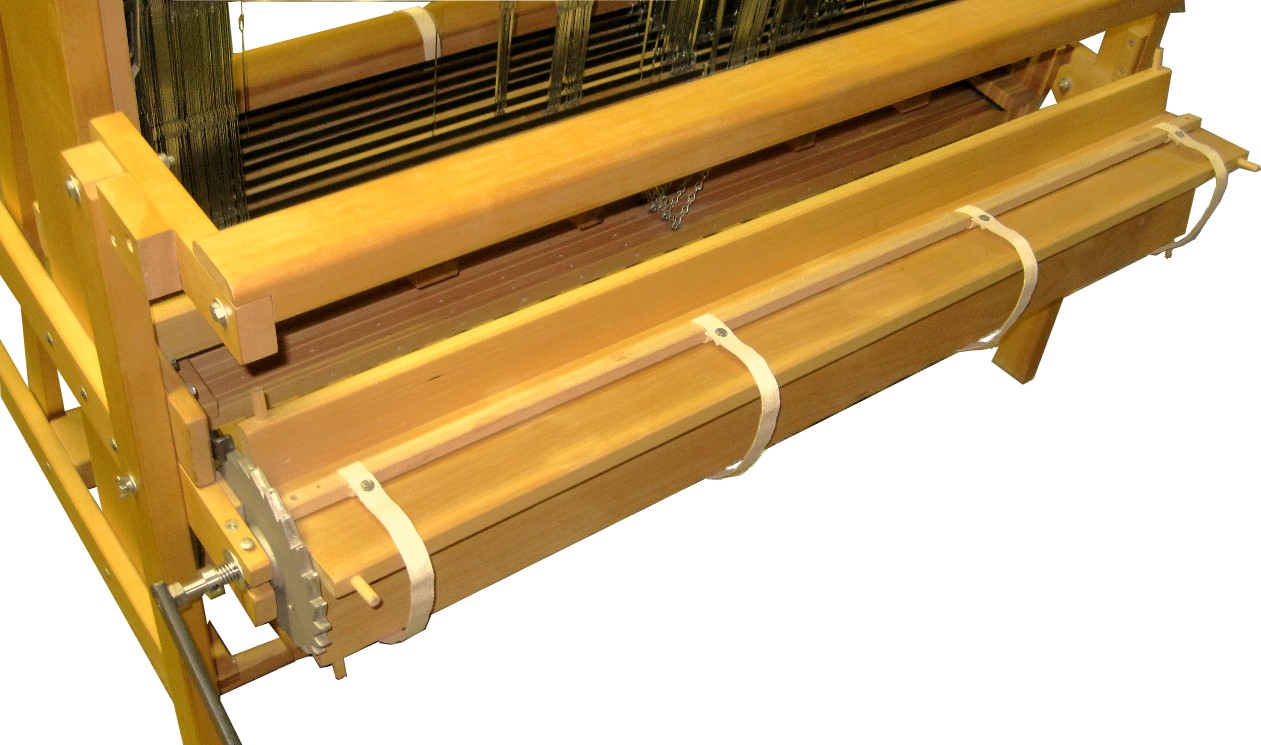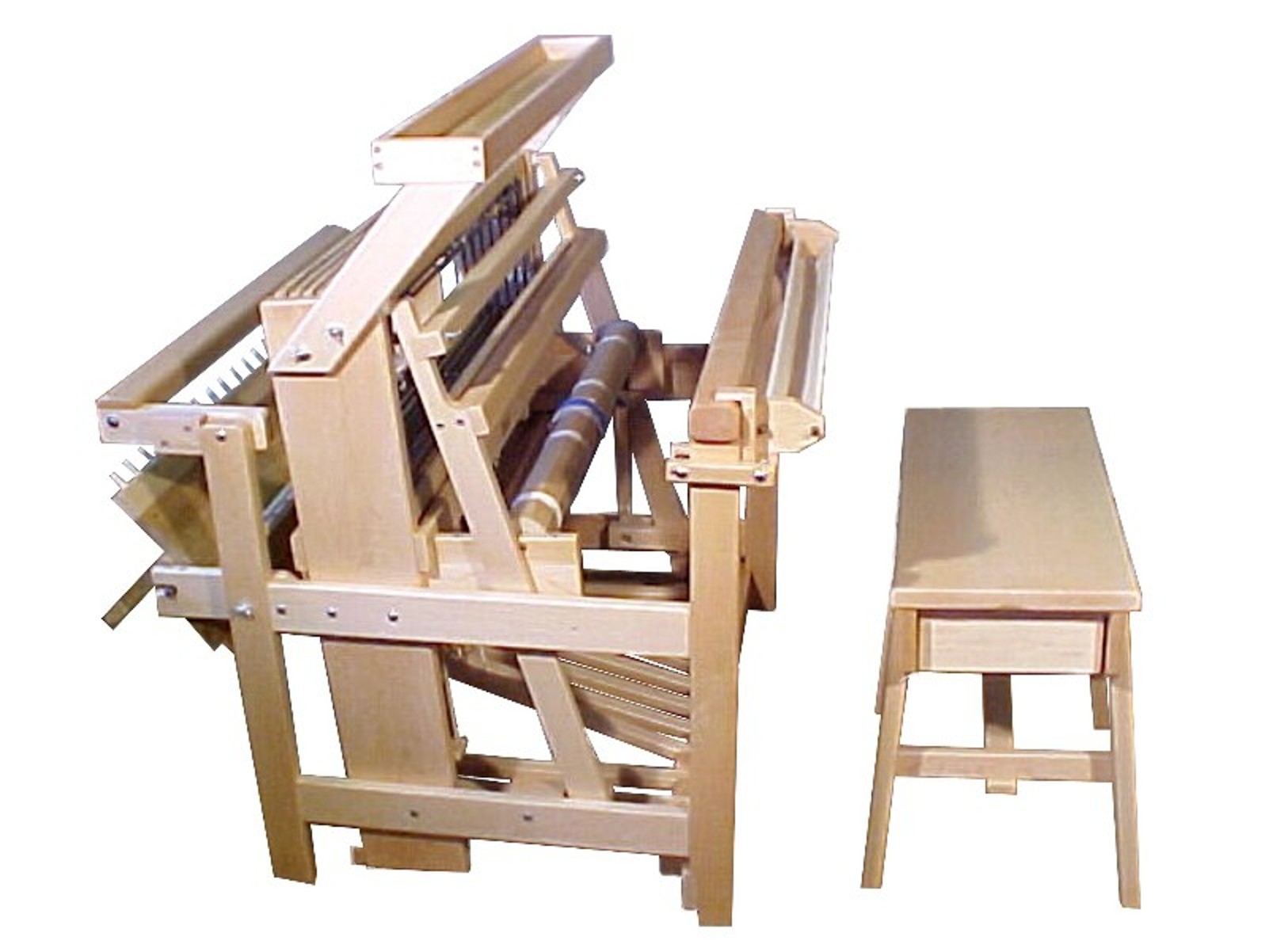 Gilmore Floor Loom
Accessories
Loom shown is a 32 inch, 8 harness "Gilmore" series Loom.
It has a Top Tray, a Cloth Pocket,and sectional beam bars installed.
Gilmore floor looms come with a standard
plain beam, straps, and a wood tie bar .